Security Awareness Training
Consistent, repetitive Security Awareness Training is the cornerstone of an effective cybersecurity strategy.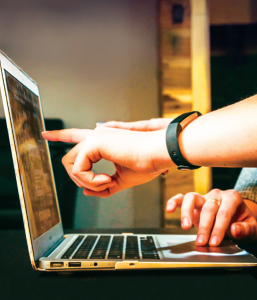 Team members who are regularly exposed to effective security awareness training and who practice appropriate responses are better able to react to real-time cyber-emergencies without hesitation, fear or mistakes.
No-cost to you!
Easy-to-access online training dashboard
On-demand engagement reports
The faster someone responds to a threat, the faster the organization can react and recuperate.
Why Should You Train Your Team?
The #1 threat to your business is YOU and YOUR EMPLOYEES.  Human error remains THE #1 CAUSE of data breaches.
Studies show that consistent, repetitive training leads to a lower risk of human error.

It is far easier and cheaper to train your team how to see and avoid cyber criminals than to recover from a cyber-attack or ransomware.

Did You Know? 90% of data breaches involve weak or stolen

passwords.*
*Source:: Osterman Research's State of Privacy and Security Awareness Report
We will contact you shortly to walk
you through your new Security
Awareness Training Dashboard.
Getting Started Is As Easy As 1 - 2 - 3
Complete the form on the right

Collect the names and email
addresses of your team members

Send the List to Us and Start your Security Awareness Training!
Start Your No-Cost Security Awareness Training Today!