Firewall Log Monitoring and Auditing Service
Hackers are getting more bold and attempting to breach security on businesses of any size and type.
Gone are the days when only Government and Fortune 500 Companies were the only organizations worried about network and data security.  Firewall Log Monitoring and Auditing Service is the solution you need for compliance.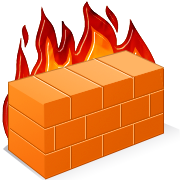 Unified Threat Managment (UTM), protection and log monitoring services are perfect for your business.  Many industries now require this type of monitoring service to maintain compliance with HIPAA, SARBOX and PCI.
The Firewall is a critical component in any layered security approach to data protection.  The firewall is the first line of defense.  Typically, small business hardware firewalls have built in logging features, but they don't store the logs for very long, and they must be constantly analyzed by a human.
Automated Firewall Log Monitoring and Auditing is the only practical method to solving the issues with analyzing large amounts of log data.  With this tool, the log data can be parsed down to something concise that is human readable and actionable. Firewall Log Monitoring and Auditing Service works without your intervention.  We automatically monitor and and manage any detected threat events.
Action DataTel uses special software to sift through and sniff out the suspicious activity and events that may be lurking in your network.  Our service automatically monitors and reports on specific events and threats that happen on a monitored firewall device.
Call for more information 1-888-468-6301 or contact our team.